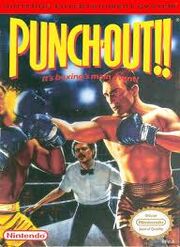 Punch-Out is a boxing title for the NES that was released in 1987. The game follows Little Mac, a rookie but a skilled boxer who takes on some of the toughest boxing opponents around.
This was actually the first VC review, and perhaps first ever review done by the Wiiviewer. He said that there were only a couple of problems he had with the game. The first had to do with the uncomfortable use of the uppercut button, and the second had to do with a delay in control when using the Wii Remote to play. However, for 500 Wii Points, he believes it's worth every penny.
External Links

Edit
Ad blocker interference detected!
Wikia is a free-to-use site that makes money from advertising. We have a modified experience for viewers using ad blockers

Wikia is not accessible if you've made further modifications. Remove the custom ad blocker rule(s) and the page will load as expected.